Here are our 2023 Spring Wine Club offerings. We could not be more excited about these wines. Please reach out if you have any questions! Cheers! - Justin & Brooke
2019 Old Goat (2 Hippo Concrete Tanks)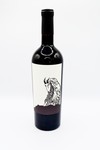 100% Red Willow
67% Cabernet Sauvignon/33% Merlot
19 months in 67% New French Oak and 33% Neutral French Oak then blended and aged an additional 10 months in concrete tanks
This is Justin's favorite wine and his best wine every single vintage and it is by design. The goal with the Old Goat is simply to craft the best wine we can with what the vintage gave us. It can be a blend of varieties and vineyards, whatever it needs to be. In 2019 the Merlot from Red Willow was outstanding. It helped to flesh out the Cabernet Sauvignon, contributing a somewhat rounder mouthfeel and filled in the gaps on the palette. On the nose it offered up a darker fruit component in the blend, but does not overwhelm the Cabernet. The goal with the concrete is to get the wine off of the wood and allow the components of the wine time to stew and come together before bottling. This wine will be offered to public and through distribution in the fall.
2020 Yakima Valley Cabernet Sauvignon (25 barrels)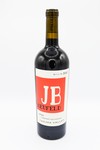 64% Elephant Mountain, 14% Red Willow, 11% Two Blondes, 11% Ciel du Cheval
86% Cabernet Sauvignon/14% Merlot
57% Neutral French Oak and 43% New French Oak
This wine is so fun to make because it is a blend of 4 different vineyards made with the intention of showcasing the best of Yakima Valley in its entirety. This wine has fruit from up and down the valley-from cold sites and hot sites: Elephant Mountain, Red Willow, Two Blondes, and Ciel du Cheval. The majority of the grapes in this wine come from Elephant Mountain vineyard-Justin loves the plush mouthfeel and nice acidity from this vineyard. Red Willow is a James Beard nominated vineyard that we love. The grapes from here are earthy with blueberry notes (this is the vineyard we source fruit for our Old Goat-reserve Cabernet). Two Blondes vineyard is the coolest site we work with and the most aromatic. The nose is full of lavender and floral components. We love the delicacy and aromatics of this vineyard so we do make a small number of vineyard designate Cabs from this vineyard. Ciel du Cheval is located on Red Mountain and is an incredibly hot (temp) site. We love Red Mt fruit-big, tannic, bright cherry flavors. When blending these vineyards together Justin created a wine that is balanced, aromatic, full bodied and a great example of Cabernet grown in the Yakima Valley. We will be sold out of this wine after this wine club release.
2020 Ciel du Cheval Cabernet Sauvignon (9 barrels)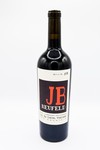 100% Ciel du Cheval
100% Cabernet Sauvignon
63% New French Oak and 37% Neutral French Oak
We have big love for this vineyard and will be sold out after this wine club release. Ciel du Cheval is located on Red Mountain. It is one of the few sites that can get a jammy note in WA State, it has a great weight and volume on the palate, and it is a bit more delicate than traditional WA state cabs. The clone of Cabernet is different than most clones planted in Washington State. This clone 337 is new to our state and is from Bordeaux, France. It's a bit herbaceous and has more red fruit notes. We are excited about this wine and look forward to further integrating this vineyard into our wine program. We also have access to a small amount of different grapes each harvest from this vineyard that is available to our wine club and has been really fun to experiment with last year was Mourvedre & this year Grenache.
2022 Sauvignon Blanc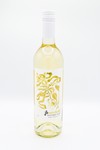 100% AlderRidge Vineyard
100% Sauvignon Blanc
100% Tank
The Sauv Blanc is a story of perseverance (on my part). After years of me kindly asking for a white wine, Justin responded with a fresh, crisp Sauvignon Blanc that has the perfect acidity. There are balanced notes of tropical fruit and tarragon. The fruit comes from AlderRidge Vineyards in the Horse Heaven Hills. Justin sought out this vineyard specifically because they use a different clone than most in the state. The label is a nod to my hometown. I grew up on an island (Whidbey) in the Pacific Northwest so PNW artist, Nikki McClure (the same artist as our Old Goat label), created a seaweed and crab scene that we think pairs perfectly with the wine.

We have 4 wines available in our Fall Wine Club Shipment.
2020 Yakima Valley Cabernet Sauvignon Retail $35 Club Price $29.75
This wine combines fruit from 4 different vineyards located throughout the Yakima Valley-from Red Mountain to the most western point. By doing this we are able to offer a great overview of all that the Yakima Valley has to offer. A wine with dark fruit and graphite notes that is balanced with a plush mouthfeel.
25 barrels produced
86% Cabernet Sauvignon 14% Merlot
64% Elephant Mountain Vineyard, 14% Red Willow Vineyard, 11% Ciel du Cheval Vineyard & 11% Two Blondes
Aged 18 months 43% New French Oak
2020 Ciel du Cheval Cabernet Sauvignon Retail $50 Club Price $42.50
Justin's Thoughts: Our best Ciel yet! The wine had great vibrancy and balance on the nose and palate. It displays a great bouquet of ripe huckleberries and cassis intertwined with baking spices and a bit of earth. The palate has great volume and weight, with rounded tannins and an acidity that keeps the wine bright and vibrant. It is a great example of the power Red Mountain can bring, with a bit more finesse that Ciel du Cheval is known for bringing to this AVA.
9 barrels produced
100% Cabernet Sauvignon
100% Ciel du Cheval Vineyard
2020 Ciel du Cheval Syrah Retail $35.00 Club Price $29.75
This was such a fun wine to make and we love how it turned out-incredible aromatics and a very smooth finish. This wine was made with 100% stems on and co fermented with 5% Viogner and left on the skins for 4 weeks. Fermented partially with Native Yeast and aged for 16 months in a neutral Puncheon. This will make the perfect Thanksgiving wine, pairing well with roasted Turkey and complimenting the bright red cranberry dishes. It is available only to wine club and on our website.
1 Puncheon
95% Syrah 5% Viogner
100% Ciel du Cheval Vineyard
2018 Old Goat Reserve Cabernet Sauvignon Retail $60.00 Club Price $51.00
Justin's Thoughts: The 2018 Old Goat takes a while to open up and then there are notes of baking spices, herbs, fennel, ripe blackberry, and cassis. Good overall balance and breadth of palate. Acid is nicely integrated. Medium +, elegant, not excessive or overbearing. An excellent expression of Red Willow Cab. This is the best wine I can make, cellar 10+ years or enjoy now. 93 points from James Suckling.
6 barrels produced
100% Cabernet Sauvignon
100% Red Willow Vineyard
1 bottle per wine club member
There may be nothing more controversial in the wine industry as scores. We have very mixed feelings ourselves on the topic but with so many wines in the world, scores can be helpful in quickly identifying wines to try and wineries to watch. We are proud of our wines and proud of our scores.

Our California distributor said it best, "... scores in the 90's for a small winery are a huge benefit for sales in my opinion. A score is an indicator that the wine is not a "risk" for the customer to try for the first time. It also indicates that the wine is balanced and very well made, at the bare minimum. For your wines, at your price point, it is a really big deal..."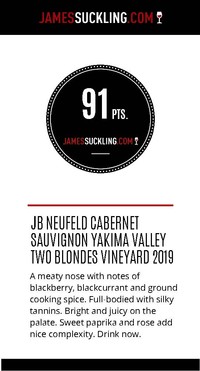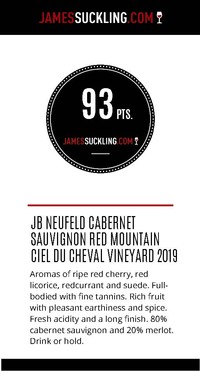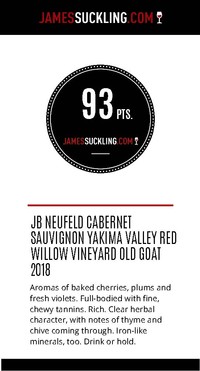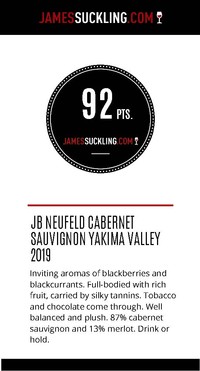 2019 Ciel du Cheval
(198 cases produced)
Vineyard:
100% Ciel du Cheval
Assemblage:
80% Cabernet Sauvignon & 20% Merlot
Every year we choose a vineyard that is really expressing their site and make a Cabernet exclusively from that vineyard's fruit. In the past we have made vineyard designate Cabernets from Artz Vineyard, DuBrul Vineyard, and Two Blondes Vineyard. In 2018 and 2019 we made a vineyard designate from the newest vineyard we started sourcing fruit from, Ciel du Cheval. This is a well-known site located on Red Mountain.
Tasting Notes: The Cabernet Sauvignon is clone 337. This clone is new to our state from Bordeaux France. This wine has bright cherry and raspberry on the nose with a great weight and volume on the palate. The wine is more delicate and supple than our other two Cabernets.
Vinification: Fruit was hand harvested September 28, 2019. The grapes were destemmed and crushed leaving ~20% whole berries. No pump was used in the transfer of the must. The must cold soaked for approximately 96 hours at about 12oC and native yeast began fermenting after about 72 hours.
Bottled unfined and unfiltered on April 14th, 2021.
Elevage:
17 months in 63% new French oak and 37% neutral French oak
Alcohol – 14.9%
TA – 6.4 g/L
pH – 3.57
I have been wanting to work with this vineyard since the moment I started making wine. I have waited patiently on their waiting list until the summer of 2018 when I got the opportunity to purchase fruit. It was worth the wait. The Ciel is such a meticulously cared for vineyard and it shows in the quality of the fruit. The vines are young but I still felt like the wine was special enough to create a vineyard designate.
So in 2018 our fruit was hand harvested September 28, 2018. The grapes were destemmed and crushed leaving ~20% whole berries. The wine was cold soaked for approximately 72 hours at about 12oC and native yeast began fermenting after about 72 hours. The wine was gravity racked and bottled unfined and unfiltered on August 12, 2020.
We made 123 cases and this wine sold out in less than three months. We were so pleased by how much everyone enjoyed this Cabernet. We are sold out now except for wine club members and are really excited to release our next vintage of Ciel du Cheval in the fall.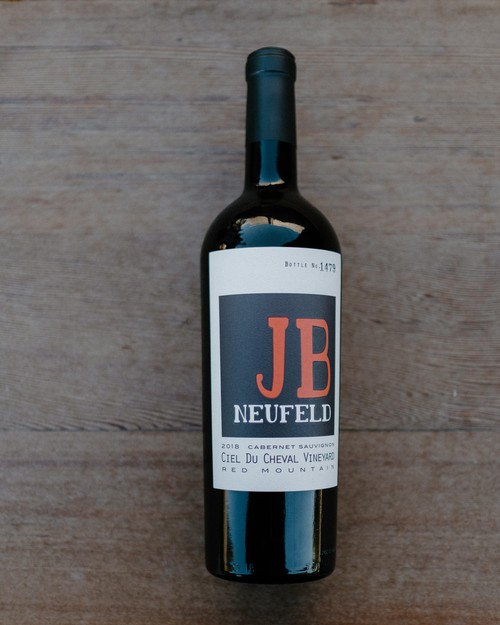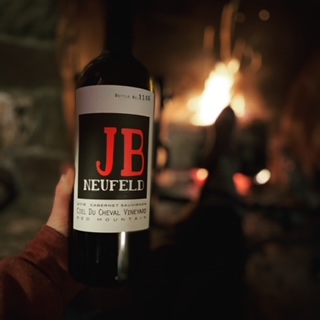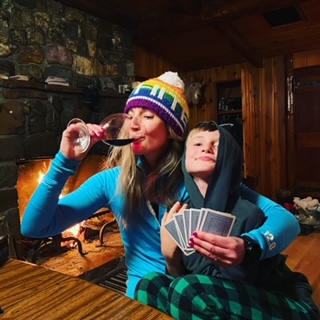 This is the best wine I can make. Every winter I taste through all my barrels and pick out the absolute best ones. Those chosen barrels get blended together to make the Old Goat. The grapes were hand harvested October 10, 2017. Cold soaked for 3 days and fermentation started with native yeast after 2 days. The wine was gravity racked and bottled unfined and unfiltered on March 31st, 2020.
The label art was done by Nikki McClure. She is a PNW artist who creates her work using an X-Acto knife and one black piece of paper. The name Old Goat was my nickname in college as my friends and I climbed all over the northwest, like old mountain goats.
The wine is 100% from Red Willow vineyard. I think this may be my favorite vineyard in WA state. The flavors that come from this vineyard are like no other I have ever worked with. 2017 was the first year I was able to get fruit from here and it is no surprise to me that it ended up becoming the Old Goat. Last night Brooke and I sat down with a bottle to deep dive into its nuances. It is a young wine that was made with the intention of laying down for a few more years. But still there are bright red fruits on the mid-palate and finish, good acidity, and woodsy flavors. I am really excited to release this wine in the fall, unless you are wine club and you have the chance to pick up a bottle in the spring! Thank you for enjoying wine with us!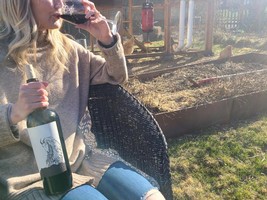 Four of my favorite vineyards all along the Yakima Valley in one wine. This wine highlights the interesting aromatics from cool vineyards in the upper valley and a long finish, from grapes grown in hot sites in the lower valley. We think this wine shows the best of Cabernet in the Yakima Valley.
It was made with 20% whole berries and cold soaked for 4 days. Fermentation began with native yeast after 3 days. The wine was kept in separate oak barrels until the final blending.
Bottled unfined and unfiltered on August 12th 2020.
100% Cabernet Sauvignon
Vineyards:
Artz Vineyard
Two Blondes
Dineen Vineyard
Red Willow Vineyard
21 months in 51% New French Oak Barrels
Tasting Notes: cherry, graphite, baking spices. Round tannins and plush mouthfeel.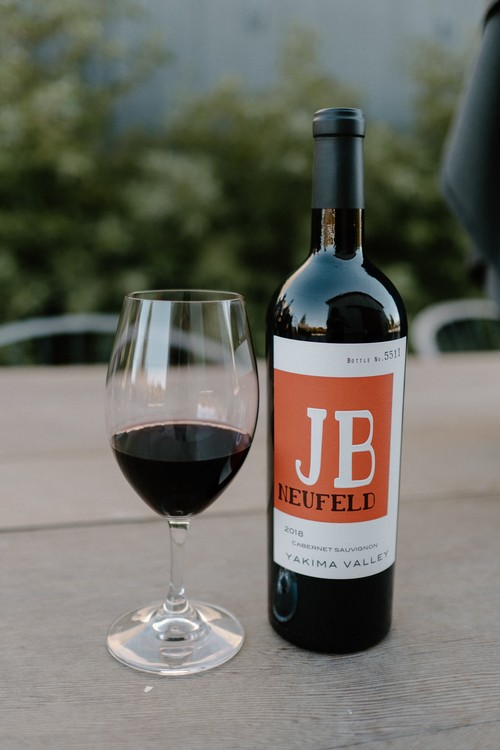 Sauvignon Blanc
I made this wine for my wife. Brooke loves a nice crisp Sauvingon Blanc on a warm summer evening. She also moved from an island in the Puget Sound to the desert of Yakima to be with me. So, I asked Nikki McClure (an amazing PNW artist) to create a label that was reminiscent of the beaches Brooke grew up on.
100% Sauvignon Blanc
100% Schmidt Vineyard in the Yakima Valley. This vineyard is certified sustainable
Tasting Notes: lime, grass, green apple. Clean with juicy acidity.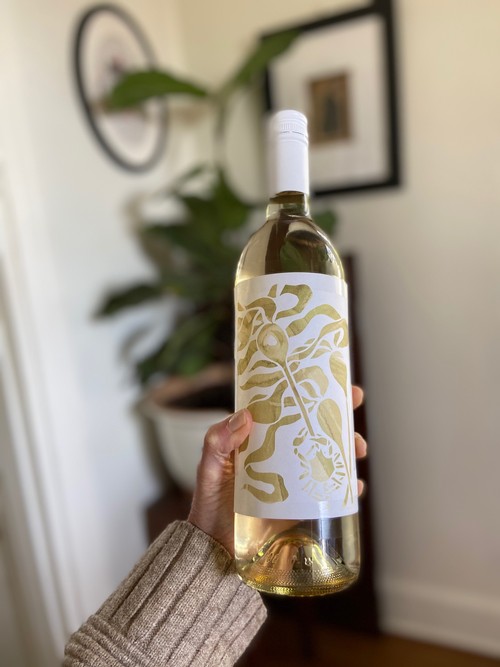 This month is WA Wine month and the entire first week is dedicated to Cabernet & Casseroles! I will be honest I LOVE our Cabernet (or really any rich/layered red wine) with a delicious Cassoulet. But with work and 3 kiddos I never seem to have time or energy to even find all the ingredients.
My second favorite comfort food to enjoy with Cabernet absolutely involves pasta. Here is Anna Gilbert's recipe for The Best Lasagna (that is actually the name of her recipe) and it does not disapoint. Anna not only has a degree in wine studies but she is an incredible cook and is married to the founder of Gilbert Cellars and wine grape farmer. So she knows all about creating a hearty and delicious meal that pairs perfectly with WA grown Cabernet. She kindly gave me permission to share her recipe here! Please let us both know how it turns out. Remember tastes best with Cabernet (while cooking & eating). Cheers & Bon Apetit.
The Best Lasagna
Sauce:
2 TBL Olive Oil
1 lb Spicy Italian Sausage
1 cup chopped onion
3 garlic cloves
2 tsp dried oregano
1/4 tsp red pepper flakes
1 28oz crushed tomatos
1 14.5 oz can diced tomatos
Filling:
1 1/2 cup fresh basil leaves
1 15oz container + 1 cup of ricotta cheese
1 1/2 cup grated mozerella
3/4 cup parmesan cheese
1 egg
1/2 tsp salt
1/4 tsp pepper
Assembly:
12 lasagna noodles, 3 cups grated mozzerella, 1 cup grated parmesan
Directions:
Step 1 Sauce: Heat oil in heavy pot over medium high. Add sausage, onion, garlic, oregano, red pepper flakes. Saute until sausage is cooked. About 10 minutes. Add crushed and diced tomatoes. Bring sauce to boil and season with salt and pepper.
Step 2: Bring a large pot of lightly salted water to a boil. Cook lasagna noodles in boiling water for 8 to 10 minutes. Drain noodles, and rinse with cold water. In a mixing bowl, combine ricotta cheese with egg, and 1/2 teaspoon salt.
Step 3: Spread 1 1/2 cups of meat sauce in the bottom of a 9x13-inch baking dish. Arrange 6 noodles lengthwise over meat sauce. Spread with one half of the ricotta cheese mixture. Top with a third of mozzarella cheese slices. Spoon 1 1/2 cups meat sauce over mozzarella, and sprinkle with 1/4 cup Parmesan cheese and 1/3 basil leaves. Repeat layers, and top with remaining mozzarella and Parmesan cheese. Cover with foil: to prevent sticking, either spray foil with cooking spray, or make sure the foil does not touch the cheese.
Step 4: Bake in preheated oven at 375 for 25 minutes. Remove foil, and bake an additional 25 minutes. Cool for 15 minutes before serving.
Wow! Justin and I are so grateful for the positive feedback regarding how much you enjoy the wine and your ordering experience. Thank you. Thank you to everyone who has reached out, checked in, and continued to drink delicious wine. The quarantine continues and so do our relief packages (deep discounts/no shipping). You can still order the packages online (or via phone) and now single bottles of your favorite Cab as well. No Shipping for any of it. Click Here to order.
If we receive your order before 2 p.m. we will have your wine shipped same day. FedEx has been amazing during this crisis and most orders are at your doorstep earlier than ever! You have so many things to worry about right now-drinking delicious wine at home should not be one of them.
Wineries are considered an essential business so Justin continues to work every day and has been laser focused on blending our latest vintage. He is really excited about the 2018 blend! So please know your wine now and in the future is being well cared for!

But before we get too ahead of ourselves we just released our 2017 vintage. We miss sharing a glass with you all so check out the video of Justin describing the 2017 vintage and how it is expressed in the Yakima Valley. Do you agree with his tasting profile?? Please let us know your thoughts on the wine! We know it's not the same as clinking glasses and sharing tasting notes in person but it's as close as we can get right now!
Sending gratitude and health to you all. Thank you for continuing to drink delicious wine and for your interest in our Cabernets. Please continue to keep us posted on how you all are fairing during this crisis. We look forward to sharing a glass with you soon but until then-Virtual Cheers! -Brooke & Justin
Recent Posts
February 14, 2023

August 31, 2022

May 23, 2022

August 30, 2021

March 30, 2021

March 30, 2021

March 30, 2021

(651 Comments)

March 30, 2021

March 2, 2021

March 30, 2020

(25 Comments)