March 30, 2021 | Justin Neufeld
2017 Old Goat
This is the best wine I can make. Every winter I taste through all my barrels and pick out the absolute best ones. Those chosen barrels get blended together to make the Old Goat. The grapes were hand harvested October 10, 2017. Cold soaked for 3 days and fermentation started with native yeast after 2 days. The wine was gravity racked and bottled unfined and unfiltered on March 31st, 2020.
The label art was done by Nikki McClure. She is a PNW artist who creates her work using an X-Acto knife and one black piece of paper. The name Old Goat was my nickname in college as my friends and I climbed all over the northwest, like old mountain goats.
The wine is 100% from Red Willow vineyard. I think this may be my favorite vineyard in WA state. The flavors that come from this vineyard are like no other I have ever worked with. 2017 was the first year I was able to get fruit from here and it is no surprise to me that it ended up becoming the Old Goat. Last night Brooke and I sat down with a bottle to deep dive into its nuances. It is a young wine that was made with the intention of laying down for a few more years. But still there are bright red fruits on the mid-palate and finish, good acidity, and woodsy flavors. I am really excited to release this wine in the fall, unless you are wine club and you have the chance to pick up a bottle in the spring! Thank you for enjoying wine with us!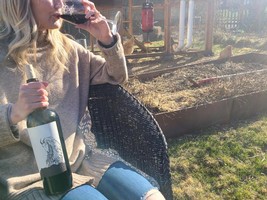 Comments
Commenting has been turned off.
Recent Posts
July 25, 2023

July 25, 2023

May 30, 2023

February 14, 2023

August 31, 2022

May 23, 2022

August 30, 2021

March 30, 2021

March 30, 2021

March 30, 2021

(651 Comments)