Sauvignon Blanc
I made this wine for my wife. Brooke loves a nice crisp Sauvingon Blanc on a warm summer evening. She also moved from an island in the Puget Sound to the desert of Yakima to be with me. So, I asked Nikki McClure (an amazing PNW artist) to create a label that was reminiscent of the beaches Brooke grew up on.
100% Sauvignon Blanc
100% Schmidt Vineyard in the Yakima Valley. This vineyard is certified sustainable
Tasting Notes: lime, grass, green apple. Clean with juicy acidity.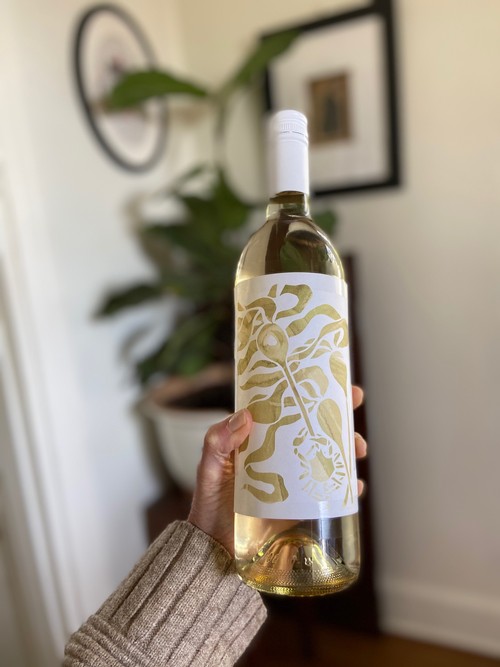 This month is WA Wine month and the entire first week is dedicated to Cabernet & Casseroles! I will be honest I LOVE our Cabernet (or really any rich/layered red wine) with a delicious Cassoulet. But with work and 3 kiddos I never seem to have time or energy to even find all the ingredients.
My second favorite comfort food to enjoy with Cabernet absolutely involves pasta. Here is Anna Gilbert's recipe for The Best Lasagna (that is actually the name of her recipe) and it does not disapoint. Anna not only has a degree in wine studies but she is an incredible cook and is married to the founder of Gilbert Cellars and wine grape farmer. So she knows all about creating a hearty and delicious meal that pairs perfectly with WA grown Cabernet. She kindly gave me permission to share her recipe here! Please let us both know how it turns out. Remember tastes best with Cabernet (while cooking & eating). Cheers & Bon Apetit.
The Best Lasagna
Sauce:
2 TBL Olive Oil
1 lb Spicy Italian Sausage
1 cup chopped onion
3 garlic cloves
2 tsp dried oregano
1/4 tsp red pepper flakes
1 28oz crushed tomatos
1 14.5 oz can diced tomatos
Filling:
1 1/2 cup fresh basil leaves
1 15oz container + 1 cup of ricotta cheese
1 1/2 cup grated mozerella
3/4 cup parmesan cheese
1 egg
1/2 tsp salt
1/4 tsp pepper
Assembly:
12 lasagna noodles, 3 cups grated mozzerella, 1 cup grated parmesan
Directions:
Step 1 Sauce: Heat oil in heavy pot over medium high. Add sausage, onion, garlic, oregano, red pepper flakes. Saute until sausage is cooked. About 10 minutes. Add crushed and diced tomatoes. Bring sauce to boil and season with salt and pepper.
Step 2: Bring a large pot of lightly salted water to a boil. Cook lasagna noodles in boiling water for 8 to 10 minutes. Drain noodles, and rinse with cold water. In a mixing bowl, combine ricotta cheese with egg, and 1/2 teaspoon salt.
Step 3: Spread 1 1/2 cups of meat sauce in the bottom of a 9x13-inch baking dish. Arrange 6 noodles lengthwise over meat sauce. Spread with one half of the ricotta cheese mixture. Top with a third of mozzarella cheese slices. Spoon 1 1/2 cups meat sauce over mozzarella, and sprinkle with 1/4 cup Parmesan cheese and 1/3 basil leaves. Repeat layers, and top with remaining mozzarella and Parmesan cheese. Cover with foil: to prevent sticking, either spray foil with cooking spray, or make sure the foil does not touch the cheese.
Step 4: Bake in preheated oven at 375 for 25 minutes. Remove foil, and bake an additional 25 minutes. Cool for 15 minutes before serving.
Wow! Justin and I are so grateful for the positive feedback regarding how much you enjoy the wine and your ordering experience. Thank you. Thank you to everyone who has reached out, checked in, and continued to drink delicious wine. The quarantine continues and so do our relief packages (deep discounts/no shipping). You can still order the packages online (or via phone) and now single bottles of your favorite Cab as well. No Shipping for any of it. Click Here to order.
If we receive your order before 2 p.m. we will have your wine shipped same day. FedEx has been amazing during this crisis and most orders are at your doorstep earlier than ever! You have so many things to worry about right now-drinking delicious wine at home should not be one of them.
Wineries are considered an essential business so Justin continues to work every day and has been laser focused on blending our latest vintage. He is really excited about the 2018 blend! So please know your wine now and in the future is being well cared for!

But before we get too ahead of ourselves we just released our 2017 vintage. We miss sharing a glass with you all so check out the video of Justin describing the 2017 vintage and how it is expressed in the Yakima Valley. Do you agree with his tasting profile?? Please let us know your thoughts on the wine! We know it's not the same as clinking glasses and sharing tasting notes in person but it's as close as we can get right now!
Sending gratitude and health to you all. Thank you for continuing to drink delicious wine and for your interest in our Cabernets. Please continue to keep us posted on how you all are fairing during this crisis. We look forward to sharing a glass with you soon but until then-Virtual Cheers! -Brooke & Justin

March is Washington Wine Month.

We are so immersed in Washington wine that I forget there are other places that might also make a Cabernet Sauvignon. (I guess California? France?) What makes WA wine so special? I asked Justin to really zero in on what he believes makes Washington wine distinctly different from other growing regions.

His immediate response was Diurnal Range.

In the fall months Washington gets these big swings in temperature from day to night (viticulturists call it Diurnal Range) really hot days followed by significantly cooler nights.**(side note: this is also what causes Washington apples to get so red while still being crisp)** These temperature swings help to create a natural acidity and structure that results in a well balanced and aromatic glass of wine. In warmer regions, that see less temperature movement, their fruit will ripen more quickly and with lower natural acidity. This can impart a raisin, flabby, and overripe note. Or winemakers will manipulate the wines post harvest.

We are lucky-WA wines are just naturally balanced.
Minimal intervention, maximum terrior expression.
Recent Posts
July 25, 2023

July 25, 2023

May 30, 2023

February 14, 2023

August 31, 2022

May 23, 2022

August 30, 2021

March 30, 2021

March 30, 2021

March 30, 2021

(651 Comments)